Current Value and the team come from the Othercide
We have been fans of Current Value for something. Every release comes through correct and original. His style is by far one of the most unique while maintaining energy, craft, and the engineering is just on point. Tim (Current Value) is certainly a machine in human disguise. He churns out tunes like McDonald's churns out hamburgers. Except his tunes are far tastier and healthy for the Drum & Bass soul. Heavy bass, crunchy beats is what current value and this EP "Rethink" is no different or is it..

This artist was known in the past for heavy drums, sick bass, and you know what? Nothing has changed but the sub-genre is now Neurofunk. We are certainly welcoming it! With projects like MachineCode and releases on Critical, Blackout, & Eatbrain, CV is a true musician who's found his calling in Drum & Bass. Othercide Records was on the same page and they took on an amazing rendition of music with great remixes to boot.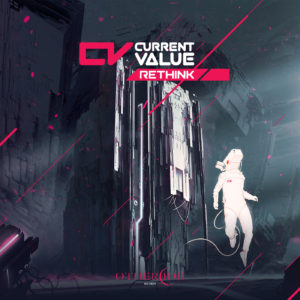 Is Rethink one of the best of 2016? YES!
This release allows you to literally take a step back and re-analyze what Drum & Bass is, was and will be. This artist is truly brings you back with some awesome pads, atmospheres, synths, to the days of circa 2004 but gives you these gut wrenching baselines. The sounds this man creates can be considered circa 2030. Some of the bass sounds make me think of movies like Space Odyssey or Tron and the kind of music those movies should've had.
This Rethink release has interesting points to be touched on. First is the track "The Deep" which can bring you back to older Current Value music from labels like as Position Chrome and Section 8. I was interested to hear this experimental sound and the touching back on those metallic drums I was always waiting to hear. The atmosphere given my this track is erie to say the least but at the same time you feel like you're on a floating pixelated cloud that continuously glitches and changes with every effect going on. It's an interesting take compared to the slammers on this release.
CV and his Amazing Friends!
Current Value and Othercide bring in their friends. Billain who is well known for extremely fast beats, crazy bass, and

immense sound design remixes the title track "Rethink." Now, I must say it can't touch the title track but Billain does the tune justice! This is one of the few tracks Billain has written where you and hear some emotion in the tune. Billain is known to put forth Robot Drum & Bass and the synths in this one are a bit different. It's still a "Billain" track, though! Fast, Hard, Snappy, and the switch up and effects used throughout are so awesome! Next are the Signs remix of Serum X and Dean Rodell's remix of Capsule. Both were done extremely well!
CV rocks it the hardest however with the title track. "Rethink" is that tear out Drum & Bass we all love to crank out to on the dance floor. We won't talk much about it. This track speaks for itself! Don't take our word for it. Listen. Then pre-order!